Keep your home cool with our comprehensive air conditioning repair services.
Has your air conditioner recently not been performing as well as it should? Are you tired of seeing your energy bills skyrocket while your house constantly remains hot and stuffy? If so, it's time to schedule professional air conditioning repair services from our team at Smart Choice Plumbing & Air Conditioning, LLC.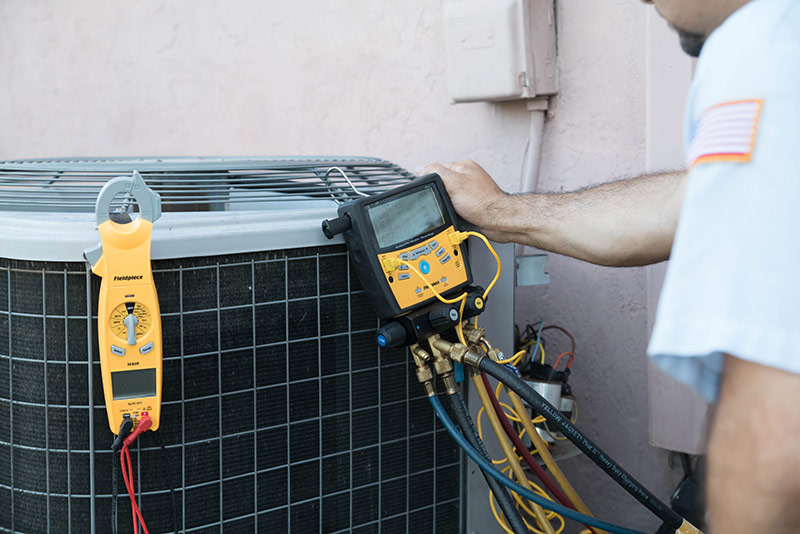 Here are some common problems that our professional air conditioning repair technicians can fix:
Refrigerant leaks. If the refrigerant level is low, especially if you recently had a technician come to refill it, that's a good sign you're dealing with a refrigerant leak. We'll locate and repair the leak as well as recharge the system with refrigerant.
Dirty coils. Over time, the evaporator and condenser coils in an air conditioning system get dirty and can become clogged with debris, reducing the system's efficiency.
Fan motor failure. If the fan motor fails, the system may be unable to circulate air, leading to overheating.
Clogged drain lines. Clogged drain lines can force water back into the system, causing even more issues. We'll unclog the drains and address any damages the backed-up water may have done.
Electrical problems. Your air conditioning unit has numerous electrical components, including the thermostat, wires, and circuit boards. Our technicians will be able to diagnose and repair any electrical problems to keep things running smoothly.
Scheduling regular maintenance and inspections is the best way to prevent many of these issues from occurring in the first place. For more information about how we can help you stay cool this summer or to schedule an air conditioning repair service, contact us today! We offer complete air conditioning services for customers in the Wellington, Florida area, including installations, repairs, and inspections.